Rena Kato
Rena Kato is a Japanese Calligrapher with over 20 years experience. She holds a master's license from The Masumi Shodo-Kai Calligraphy Association in Japan, and practices "Kai(楷)-Gyo(行)-Sou(草)".

International Calligraphy Experience
2012
- Calligraphy demonstration at Japanese Gallery in London
2019
- Calligraphy demonstration at Kimono shop in Dietzenbach, Germany
- Calligraphy workshop at Main Matsuri (festival) in Frankfurt am Main
- Calligraphy booth for DENSO at IAA in Frankfurt am Main
2020
- Calligraphy workshop for TAKEDA Pharmacy Seminar
2021
- Calligraphy Performance at Main Christmas Market in Frankfurt am Main
2022
- Calligraphy Workshop for kids at
Nippon Connection (film festival)
- Live Calligraphy Performance at Main Matsuri
2023
- Calligraphy Workshop at Cherry Blossom Day in Offenbach
Services
Japanese Calligraphy demonstrations at events,festivals and trade fairs
Card creation, hanging scrolls, T-shirts etc
Conducting Japanese Calligraphy workshops
Portrait of your pets
Are you looking for something special as a gift? Here is the perfect personalized gift for your loved ones. The example of the portrait on the right is with the price 30 EUR (with the frame 35 EUR). The size and material can be flexible for your request. Please contact me for more details.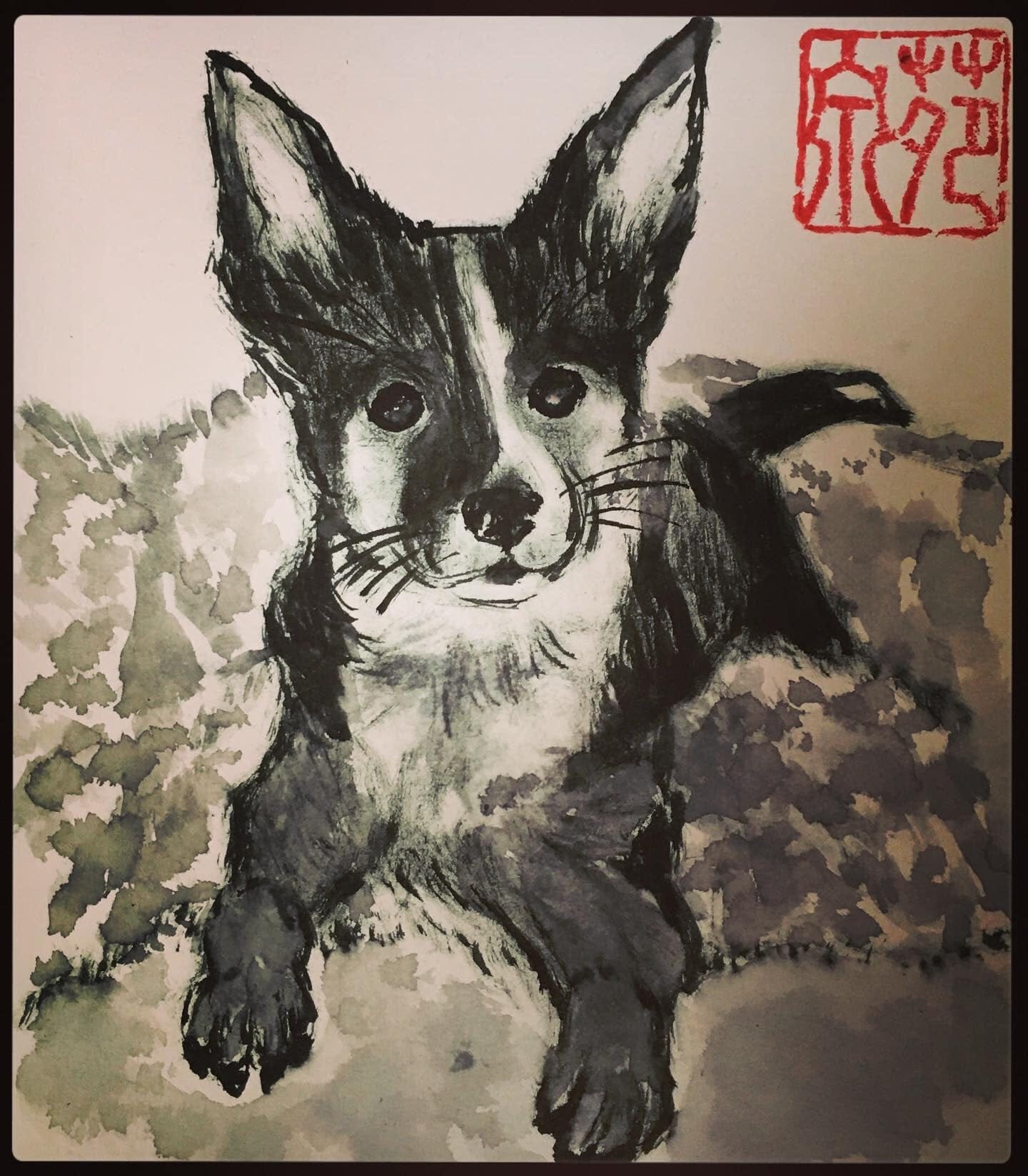 Calligraphy on Zoom
This is a Japanese Calligraphy class, which enables you to learn basic Japanese with the correct form, the order of the brushstrokes, as well as the meaning behind it. By taking this class, you can learn not only Japanese, but also this beautiful Japanese traditional culture.
Practicing calligraphy improves sense of balance and concentration. It could be said to be a practice in mindfulness.
Have plenty of blank paper (A4 will do), a brush and ink if you have those at home.
If you do not have any of those, you can simply practice in a notebook with your pen (the thicker the better).
English will be used as the main language during this class.
Date and time :
Every Thursday
19:00-20:00 (Central European Time) - Advanced
20:00-21:00 (Central European Time) - Beginners